Kristen over at "a teeny tiny teacher" is hosting a linky party. I feel as though I am that "dork" not invited to the party but goes as someone's wing man anyway. :) The blogging world is full of friends and tight connections..it's hard squeezing in.
BUT....here is my contribution to the party! Enjoy!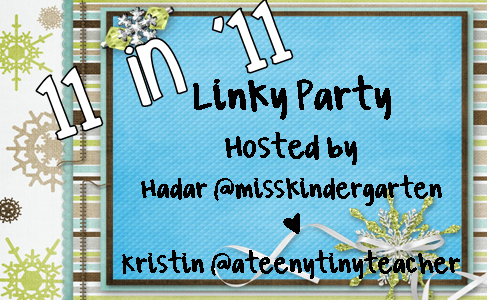 11. Favorite Movie You Watched
Super 8 - I was shocked by this movie! When Mark suggested it at the BlockbusterExpress Box, I was less than thrilled. Great, another sci-fi thriller...but I was so wrong. The writing, acting, directing, everything was awesome! Full of adventure and action - a must see.
10. Favorite TV Series
Storage Wars. A little weird I know but I cannot get enough. Although I do get annoyed when they get too ambiguous and price their own findings and inflate the actual worth; however, I don't stop watching. Please tell me I am not alone in this strange obsession. YUUUUP!
9. Favorite Restaurant
Islamorada Fish Company - it's inside the Bass Pro Shops which we frequently visit thanks to Mark's addiction hobby of fishing. Their grouper sandwich is my best friend and they serve this YUMMY, warm, cinnamon bread when you first sit down. It's a lovely experience.
8. Favorite new thing you tried
This is simple...without a doubt, blogging! At first I was so hesitant. Where to start? Who will read it? Will I ever have more than 10 followers? BUT fears aside, it has been enjoyable and refreshing. In some strange way, it also pushes me to be a better teacher. I'm sure some of you can understand that.
7. Favorite gift you received
Tickets to see Wicked the Musical. Mark scored us front row tickets to the show! I'm beyond excited. We have seen the show before, but I never get tired of incredible music and writing. I listen to the soundtrack during my 35 minute ride to work at least once a week. It pumps me up and gets my vocal cords going for a day of non-stop talking!
6. Favorite thing you pinned
*Sign* I am not on Pinterest BUT I did employ my mother on Christmas day to invite me and I just awaiting my invitation. :) Pinterest here I come!
5. Favorite blog post
...I would have to say the one on my
classroom library
. The title of the post says it all.
4. Favorite Accomplishment
My FCAT scores from the end of last year. All my students passed and I was so proud of them. It was a great feeling!
Also buying my first car. It's a 2012 Kia Soul and I bought her all by myself, and I will be making the car payments on her for the next 5 years all by myself!
3. Favorite Picture
I know I have already posted this but it was our first professional photo session together as a family. :)
2. Favorite Memory
Discovery Cove with my sister, Becca. Discovery Cove is a resort in Orlando, FL where you can lay out on the beach, eat until you want to die, and best of all, swim with dolphins! We had a wonderful SISTER day and I adored sharing such a great experience with her.
1. Goals for 2012
2. To give my all in every endeavor
3. To be patient and kind in trying situations
4. For all my students to pass the FCAT